Hi everyone!
It'll not be a surprise for who knows me that I relate events very later... I'm always late, but I treat myself.
Anyway, I began my english courses 3 weeks ago. Is my english better now? I don't think so but I don't care.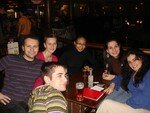 The "Turkish team" Hassan, Aygüs and Serra, José a spanish guy (back) with an horrible accent but nice guy, Katte (pink top) from Czech republic. When I said Alcohool was synonymous of integration...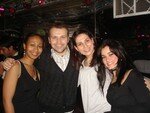 This photo was taken in the salsa classe, and now I'm totally addict!!!!!! Turkish team again!
Sinon:
Ils sont où vos putains de commentaires!!!!
Si mon blog est pourri au moins dites le! ça me fera plaisir. lol
Et comme j'ai vu que mon blog était vu à travers le monde...sans doute par erreur Lol, pour tout ceux là:
Feel free to let a message!
So I'm going back to watch "American Pie", in english of course...very easy to understand.